Sometimes you can get so caught up in the doing that it's hard to know if you are making a difference. But today three of us got to see just what a difference God and the St. Luke's Lutheran K-9 Comfort Dog Ministry can make.
There are ten handlers that weekly work with Moriah to train both her and us so that through her we can provide mercy, compassion, presence and proclamation of Jesus Christ to those who are suffering and in need. Some days we have events and some days it's about going through her various training techniques to insure that we all know our jobs.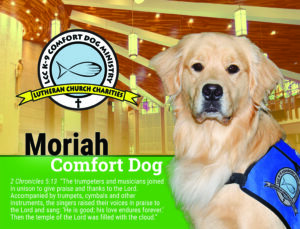 With no events schedule for the morning, it was decided that we would work with Moriah at Hobby Lobby. Distractions abound. Especially the soft, furry toys and plastic balls that always provides an opportunity for her to learn to stay on task.
As we walked up and down the aisles, we stopped and asked patrons or staff if they wished to stop and meet Moriah. Moriah has many friends at Hobby Lobby and the staff always looks forward to petting her. Smiles abound when they see her coming. And Moriah is only too willing as getting petted is what she likes most about her job as a comfort dog.
One such patron was a young mother with a baby in the cart and a toddler walking beside her. It was apparent that the morning was not going well and both mother and toddler were frustrated and a possible melt down might ensue. We asked if they might want to pet Moriah. As they petted her you could see the atmosphere of tension dissipate. The mother shared that her sister had recently had a serious health event and had spent several months in a rehabilitative center. She was feeling very low. Being a dog lover, her sister was missing her own dog. The mother asked if Moriah might be able to come and visit her at the rehabilitation center. We explained that that is exactly the work that Moriah and her team do! With Moriah's business card in hand, a smile on the mother's face, what could have turned out to be a horrible, terrible no good day now showed the promise of a day filled with possibilities.
She wasn't the only one with smiles on their faces. As the mother continued on with her shopping, we felt we just witnessed the ministries mission in action.
We came to Hobby Lobby craft store to practice and train but God used it to turn a young mother's morning from despair to hope.
It was a reminder to us just how important the St. Luke's K-9 Comfort Dog Ministry is, not just in times of disasters but in times of everyday life situations.
It was God's blessing for all of us. God is good.
Contributed by Jay Mack, Gordon Naruta, and Loretta Schoen