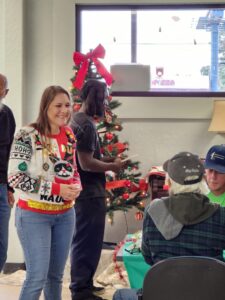 Last Friday our Catalyst Group had a very busy day at the Samaritan Resource Center. We used Thrivent cards and personal funds (gathered throughout the year) to acquire contents for a Christmas meal. We served lasagna, bread, salad, water, milk, and Christmas cookies/goodies.  We got up early to cook lasagna and arrived on site at 8:30 a.m.  We enjoyed fellowship with both the homeless clients and the staff.
BONUS = Vicar joined us!!!!
We then visited the Orlando Rescue Mission. We arrived at 1 p.m. for a tour of the facility. It was fantastic – what an incredible operation. We asked lots of questions and plotted ways for our group (and maybe others) to serve and/or donate. We ended our day, thoroughly exhausted, with a meal of our own at Olive Garden – to discuss the day and the future.
We are excited to find a way to serve, as a group. We have been challenged to find something that our group can do – given the wide range of ages and physical abilities. Food prep and serving seems to be in our wheelhouse.
Thank you Bob and Michele, Tim and Dawn, Kim and Nancy, Stephen and Annette