At St. Luke's we embrace outreach initiatives and opportunities so that we may practice and affirm the biblical hospitality of Christ to those in the community outside the church. We wish to offer the love of Christ to those around us so that they too will know His love. Due to the immense generosity at St. Luke's we have been able to help numerous outreach programs and missions! See the letters and cards below to see just how much you have impacted our community and the world!
Children of Love Foundation
It is the mission of the Children of Love Foundation to provide orphans and children in social risk homes with love, spiritual guidance, education, food, clothing and everything they need for the formation of their lives.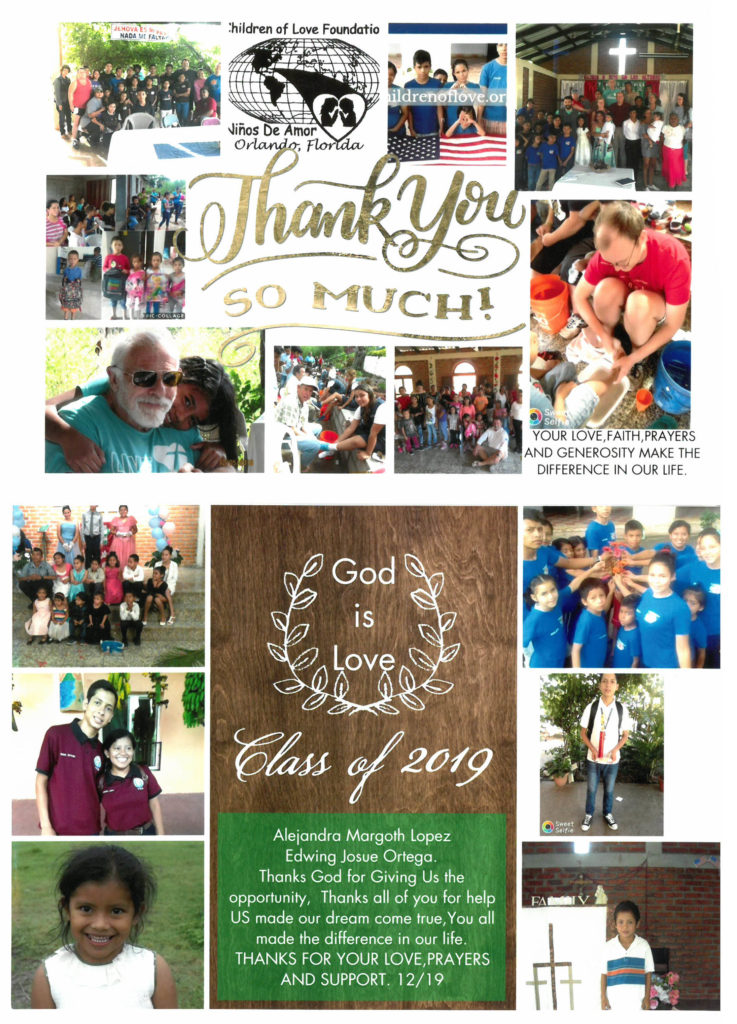 Redeeming Life Outreach Ministries
Motivated by God's grace, Redeeming Life Outreach Ministries seeks to reach out with the love of Christ to support single expectant and postpartum mothers. We do this by providing a safe and stable home.  The women have opportunities for growth in their relationship with their Savior, as well as career, parenting, and life skills education.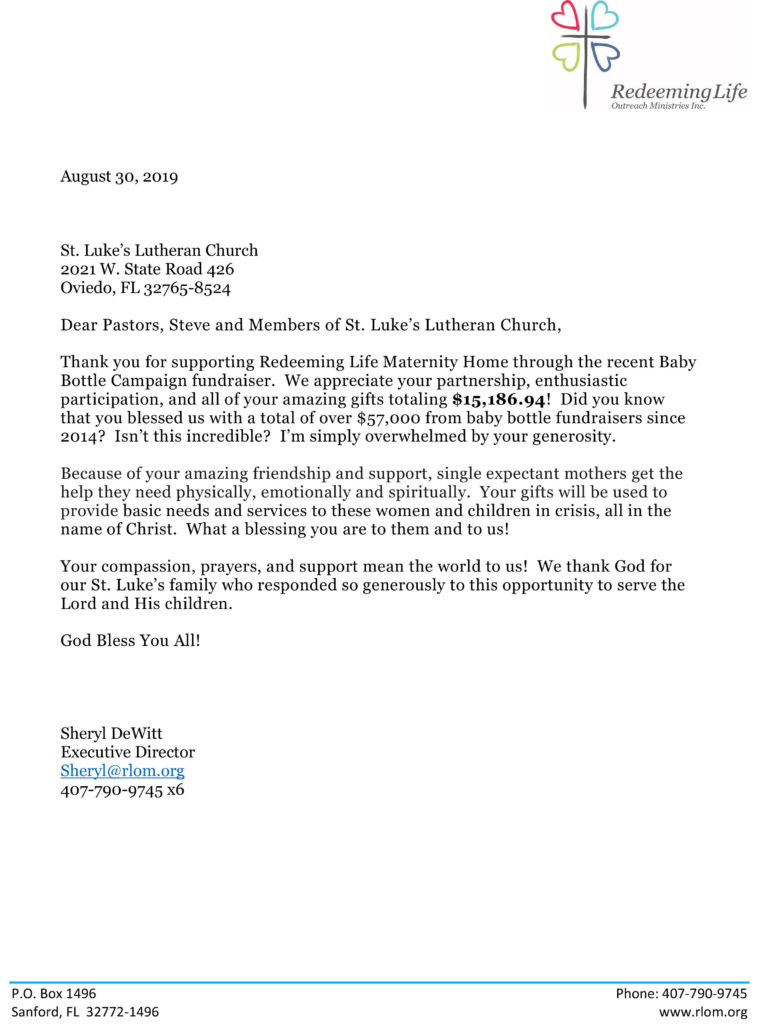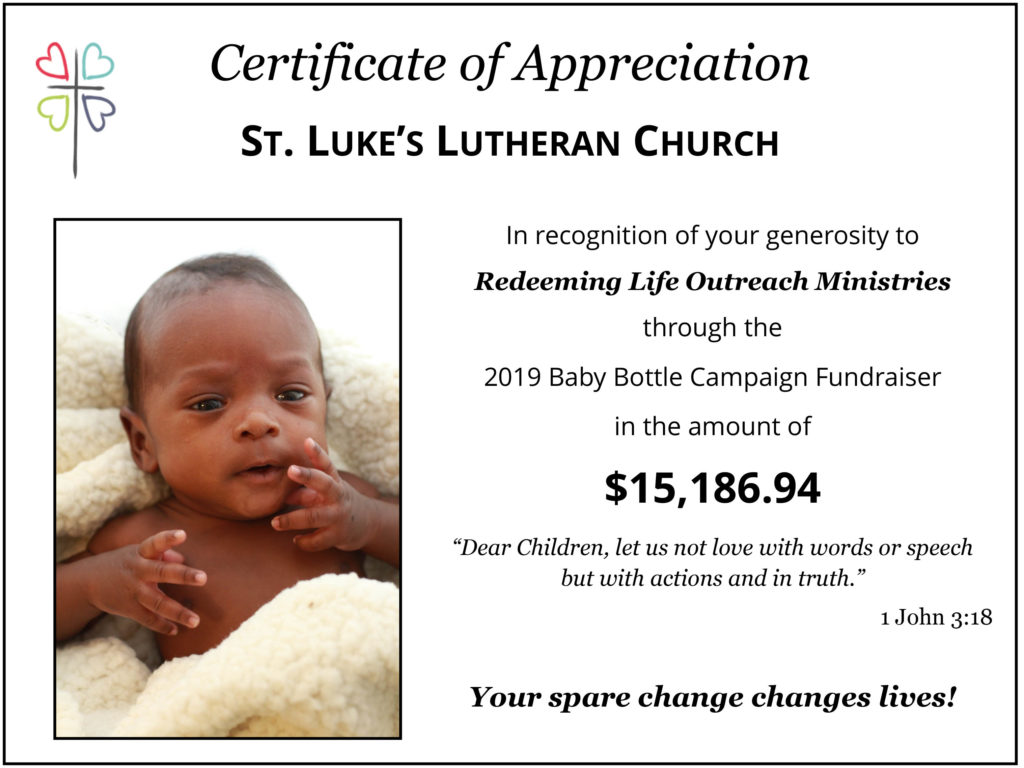 Concordia Seminary Food Bank
The Food Bank provides the tremendous blessing of free groceries and household items to all Seminary students and their families.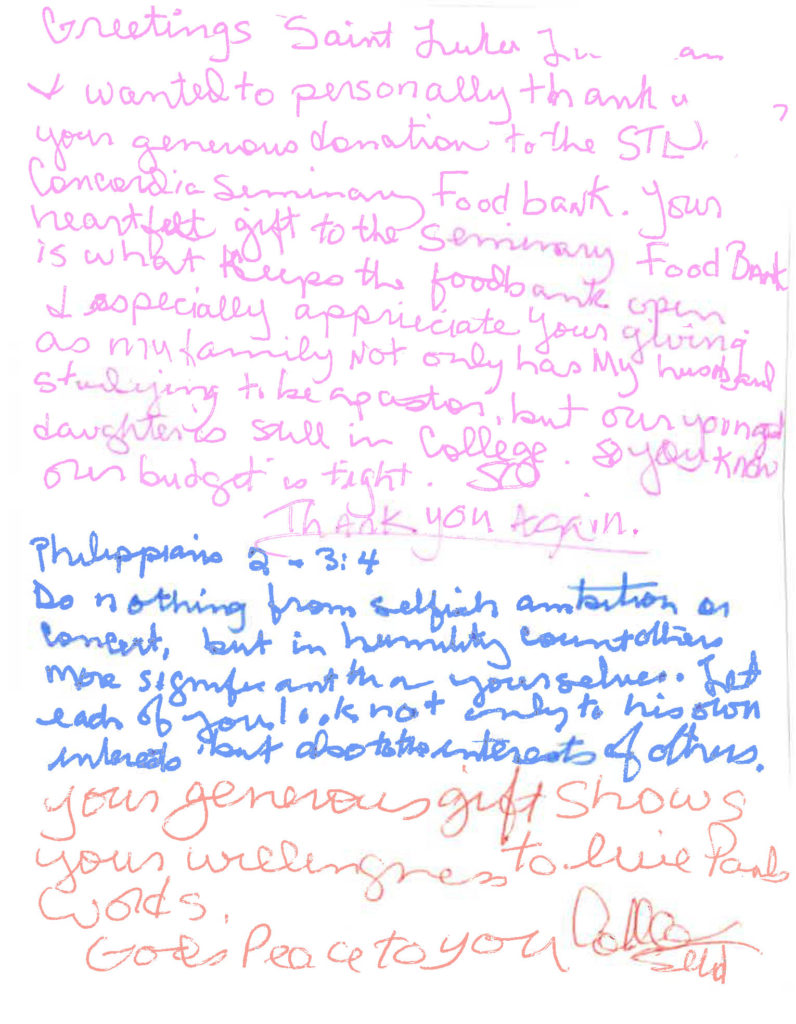 "Greetings St. Luke's Lutheran,
I wanted to personally thank your generous donation the the STL Concordia Seminary Food Bank. Your heartfelt gift to the Seminary Food Bank is what keeps the food bank open. I especially appreciate your giving as my family not only has my husband studying to be a pastor, but a young daughter still in college. So you know our budget is tight. Thank you Again.
Philippians 2:3-4
Do nothing from selfish ambition or conceit, but in humility count others more significant than yourselves. Let each of you look not only to his own interests, but also to the interests of others.
Your Generous gift shows your willingness to live Pauls words.
God's Peace to You."
A Note from Pastor Schuschke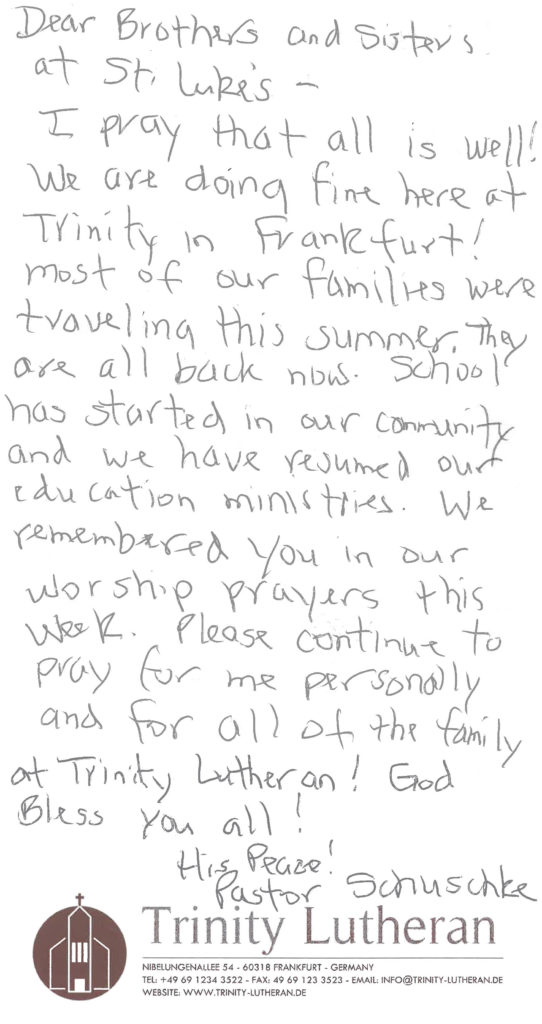 "Dear Brothers and Sisters at St. Luke's –
I pray that all is well! We are doing fine here at Trinity in Frankfurt! Most of our families were traveling this summer. They are all back now. School has started in our community and we have resumed our education ministries. We remembered you in our prayers this week. Please continue to pray for all the family at Trinity Lutheran! God Bless you all!
His Peace!
Pastor Schuschke"