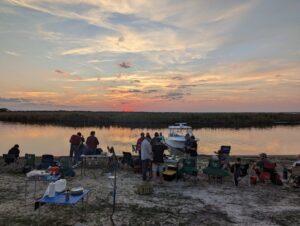 Every year, about this time, a group of godly men gather on the St. John's river for a night of fellowship, steak and libations. It's always a great time. God is good!
30+ men got together at C.S. Lee Park in Geneva on Saturday, February 25 for steak night.  Six boats took the group about 1.5 miles north on the St. John's River near Lake Harney.  Here are a few comments from the group:
I look forward to Steak Night; the fellowship, food, and sunset are great.
It was a great night with Men, Meat, Music, and lots of Memories.
Nothing tastes better than a steak cooked outdoors on an open charcoal fire!
What a great spot for a campfire along the river.
Check out all the photos from Men's Steak Night!