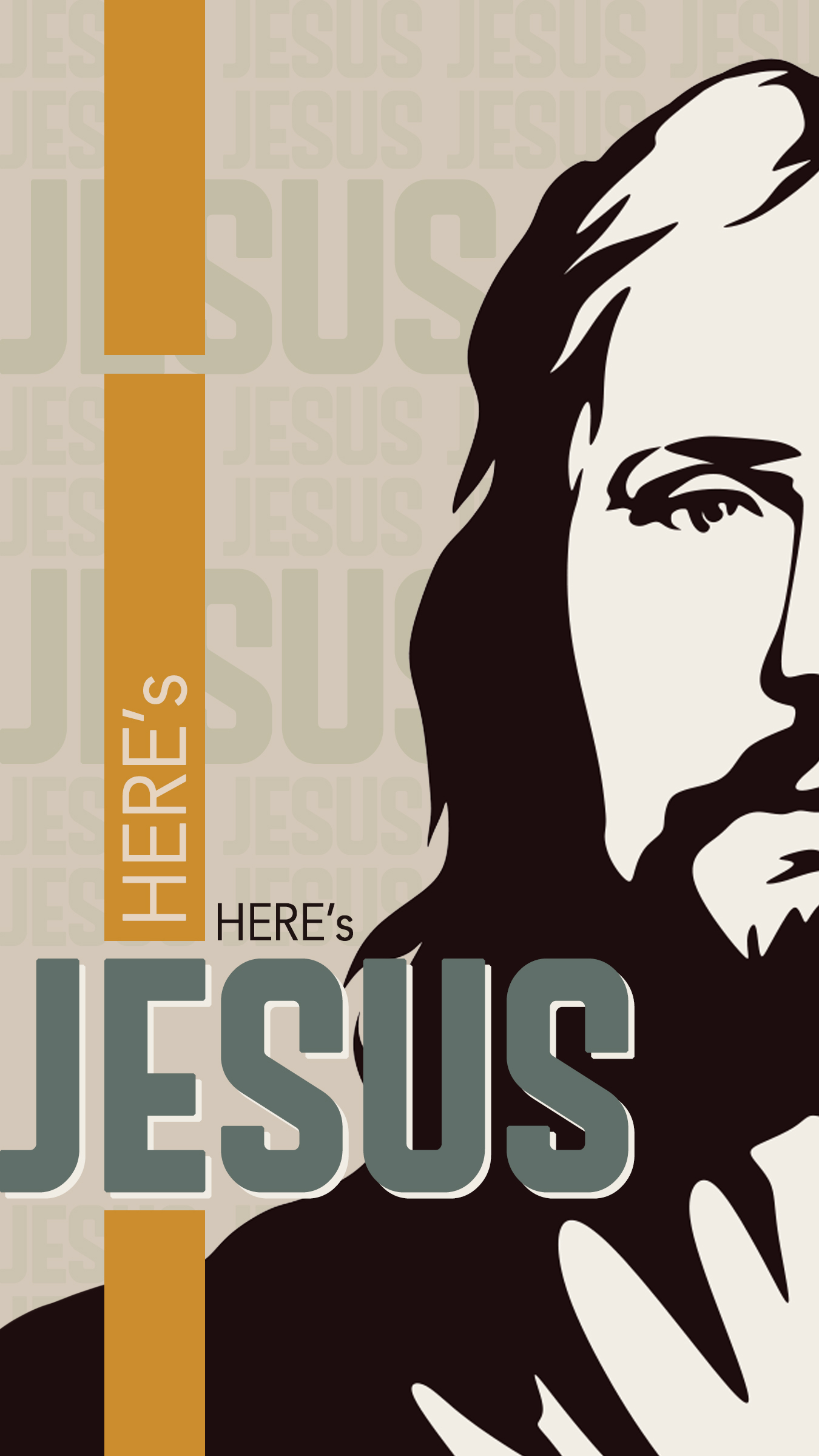 PRAYERS
Healing: Elsie D, William F, Marge F, Kurt K, Rev. Bruce L, Harold S, Desiderio S, Kathy S, Earl W
Sympathy: The family and friends of Tim W. at the death of his father Dale W.
The family and friends of Kate C. at her death.   
The family and friends of Billee R. at her death.
The family and friends of Rev. Dwayne M. at his death.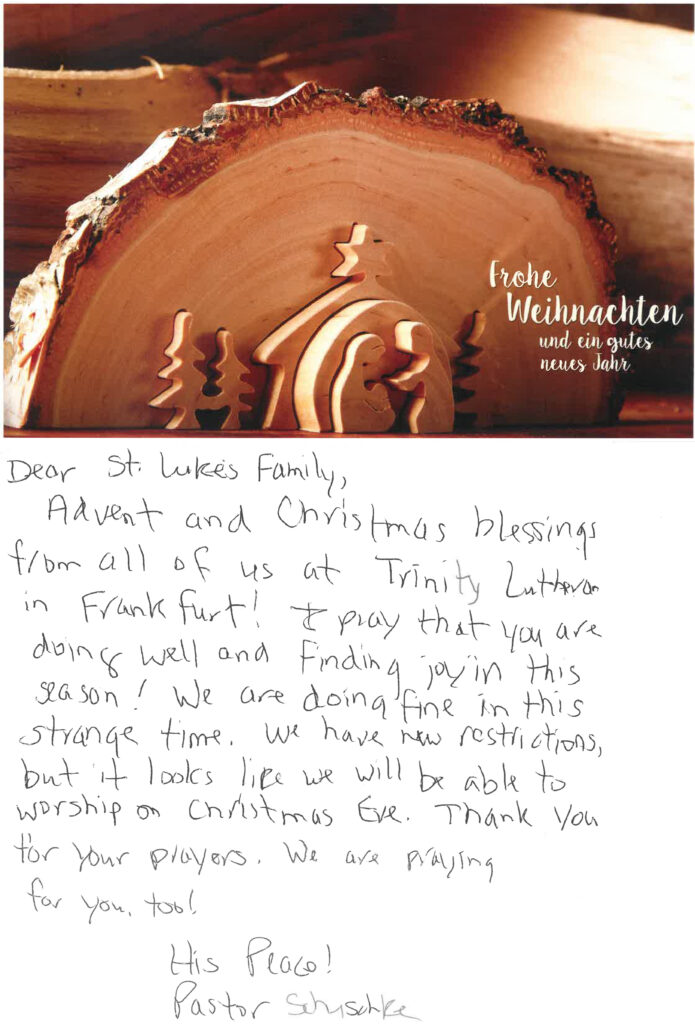 Call Candidates:
St. Luke's is currently seeking candidate names for the following positions:  
1)  Director of Christian Education with an emphasis in youth/school ministry
2)  Teachers – 4th Grade & Middle School Language Arts for the 2021-22 School Year
If you know of someone that may be interested in applying for any of these positions, please encourage them to contact hr@sllcs.org for more information.
TRAVELING PASTOR Pastor and Lois hope to travel to Atlanta this weekend to visit their son and celebrate their grandson's third birthday. We will be COVID tested before we leave to insure the safety of our family. Our only interaction will be with our family who are tested regularly due to health concerns in their household. Keep us in your prayers. 
VOTERS' MEETING Join us for our quarterly Voters' Meeting on Sunday January 24th after the 11am worship services.  We meet in Founders' Hall as soon as possible after cleaning.  Agenda and reports will be available online and in print on Sunday, January 17.
STAFF RECOGNITION We are thankful for their dedication in sharing their ministry gifts with the children, parents, members and staff of St. Luke's! This year twelve staff will be honored with a combined 225 years of service! 
BOY SCOUT ROASTS | Super Bowl Sunday is coming up fast! Do you need something cooked and ready to go? St. Luke's Boy Scout troop 58 has you covered. They will be selling 10 pound roast for $40 each. If you are interested look for our Scouts at the exits after worship on Sunday, January 24. Roast will be available for pick-up on Sunday, February 7.
GRIEFSHARE If you or someone you know is hurting due to the loss of a loved one, consider joining to find encouragement, comfort, help and hope. Join us on Wednesdays at 1:00-3:00pm. Email griefshare@sllcs.org to register or call the church office at 407-365-3408.
LITERACY FESTIVAL St. Luke's is welcoming guest author Gary D. Schmidt for the Sharon Coe Literacy Festival. All members are invited to the Media Center to meet him and have their books signed on Thursday, January 21st & Friday, January 22nd ,from 3:15 – 4:15 p.m. Book sales will coincide with the signing.
CONCERT SERIES | January 23, 7pm | ONLINE ONLY | Orlando Concert Band presents "Sonidos Latinos"–Latin Sounds.  Sonidos Latinos samples the vibrant, dance-inducing rhythms and melodies from the music of Cuba, Mexico, and Spain. 
KINDERGARTEN FAITH MILESTONE St. Luke's is offering a special three-week class just for parents of Kindergartners to teach their child to serve like Jesus. This parent class will be held January 20, 27, and February 3 from 6:30-7:30 pm online. On February 7, your family will participate in a special blessing event at the 9:30 am Generations service. Click Here to Register!
NATIONAL LUTHERAN SCHOOLS WEEK | Jan. 24–30, 2021 | NLSW provides more than 1,900 preschools, elementary schools and high schools with the public opportunity to proclaim and celebrate God's work among us in schools of The Lutheran Church—Missouri Synod.
MEN OF ST. LUKE'S RETREAT |  Friday, January 29 & 30 | St. Luke's host author and speaker Brant Hansen for a weekend you will not want to miss! Brant will be walking through his  book "Unoffendable." Cost: $20 paid at the door (Includes food and the book "Unoffendable"). Register HERE. Stop by the St. Luke's Church Office to pick up your book after you register. Questions? men@sllcs.org
SHARE YOUR STORY As you live The Jesus Adventure, how has God worked in your life?  Somebody out there needs to hear your story. Whether it's your family, your friend, or someone in your neighborhood, God has created you to tell your story! Share your story with us at sllcs.org/stories.
LCMS FOUNDATION One of your grandchildren has a special health condition. Is it right to apply more gifts to their situation out of your estate gift plan to address those needs going forward, long after the Lord has called you home? Yes, it is! If you struggle with this topic, you are still being bound by estate gifts as entitlement instead of grace. Our Transfer the Blessings Ministry director can help you answer your estate plan questions in person or by video conference. Contact Doug Taylor, at 407-365-3228 or dtaylor@sllcs.org
OFFERINGS:
Weekly Actual……………$58,488
Weekly Budget…………..$51,104
YTD Actual……………..$1,648,829
YTD Budget…………….$1,608,728